---
Fan Clutch
Fan Clutch/Fan Clutch Functions
Reduces engine idle power loss (on a V8 from 12 to 15 HP)..

Activate or deactivate the fan when the motor requires it.
Fuel savings.
Noise reduction.
Functioning
When the engine is running cold the fan clutch will rotate slowly (the device is not engaged).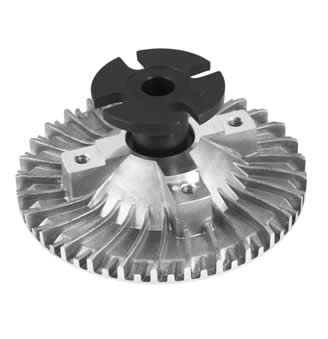 When the bimetallic spiral reaches a certain temperature, it will expand, causing the reserve area valve to become clogged and allowing the silicone to pass from the reserve area to the internal disc and work area. When this action is completed, the silicone will come into contact with the internal disc and the fan clutch body making it rotate faster (the device is already engaged).